Payments for everyone.  
Everything we do at Ozow is driven by our ambition of enabling "Payments for everyone". 
And we do that by upholding three main tenants: Easy, Fast, Trusted. 
Our payment flow is the perfect example of how we integrate these three pillars into the products and services we provide. When you're ready to pay with Ozow, all you need to do is follow the steps outlined in our payment flow below: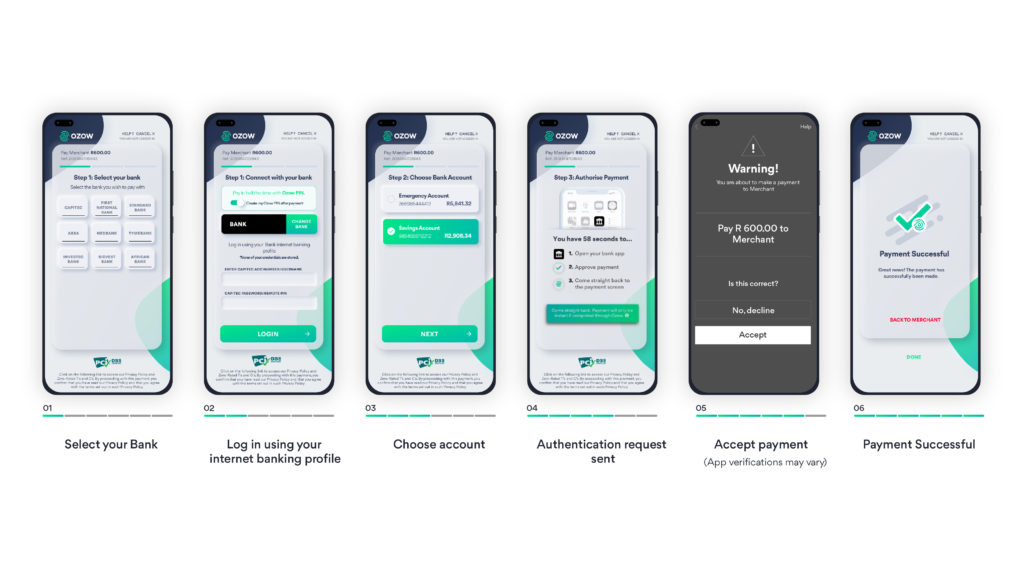 That's it. A few easy, fast, and secure steps to get you from checkout to checked out. 
Payment methods 
There are four main payment methods that are available to you, that'll allow you to make payment at any of Ozow's thousands of merchants. 
eCommerce 
Once your basket is full, and you're ready to check out, select Ozow as your payment option and follow the steps to pay. It's that easy. 
e-Billing 
If you owe a retailer or financial institution an outstanding payment, they can send you an e-bill that contains a "pay now" button. All you need to do to settle is select the button and follow the simple payment flow. 
SMS link 
Just like with e-Billing, a retailer or financial institution can send you an SMS with a payment link. Again, all you have to do is follow the link and complete the steps to make payment. 
QR code 
You can also pay in-store, or when you receive your delivery. If the Point of Sale system at your favourite store offers Ozow, all you'll need to do is scan a QR code with your phone, and you'll be redirected to make the payment. The same applies to deliveries – just scan the QR code the courier shows you. 
More Ozow Products 
Besides the flagship Ozow service, we have a few other products that make everything payments-related a breeze. 
Ozow PIN 
The Ozow PIN makes paying with Ozow even more convenient than it already is. Once you've set up the 4-digit PIN, you won't need to remember your online banking login details, so your journey from pending to paid is even quicker. Setting it up is easy too – when make a payment with Ozow, select the option to create an Ozow PIN. Once you've made the payment, you'll then go through the simple process to create your PIN. The next time you make a payment through Ozow, all you need to do is login with your Ozow PIN, approve the payment with your bank, and you're done. 
Learn more about Ozow PIN here. 
Ozow ME 
Ozow ME is designed to be simple, secure and easy. It's packed full of benefits: it lets you make or receive payments instantly, keeps track of the transactions you make through it, takes up very little space on your phone, there are no hidden fees, and it's data-free.   
You can use Ozow ME to pay friends or request payment from them if they owe you. If you run a business, you can set up an Ozow ME business account, and start receiving payments from your customers through a unique QR code, or by sending them payment request links via SMS, Whatsapp or Facebook Messenger.  
Check out more about it here. 
Refunds 
Refunds are an incredibly vital part of the customer journey. How well your business handles them can have a big impact on the brand love your customers feel for you. Our Ozow Refunds product takes the hassle out of the refund process, so you can give your customers a seamless experience when they do need to make a return and be reimbursed. Not only that, but it also makes processing refunds easier for you – it's a matter of a few clicks, and your customer will be refunded with the correct amount so they can shop again.  
Find out more about Ozow Refunds here, and download our white paper on the matter to read more about just how crucial refunds are. 
At Ozow, we pride ourselves in providing payments for everyone by making them easy, fast, and safe. To see for yourself just how easy it is to use Ozow and our various products, try it out on our demo page here.