Just like Ozow as a whole, the Marketing team is scaling up in a big way. Since 2021, the team has grown exponentially, and we're still on the lookout for more incredible talent to fill the positions we have open. 
We're always striving to create work of a quality and at a scale that beats what we've previously done. With the team we're building, the best is yet to come – we've only just begun to unlock the potential of Ozow's marketing capabilities. 
Let's take a little look into life at Ozow from a few members of the Marketing team – our Content Strategist (CS), Digital Designer (DD), Head of Digital Marketing (HODM), Digital Project Manager/Traffic Manager (DPM), Creative Director (CD), Head of Brand (HOB), and Marketing Strategist (MS).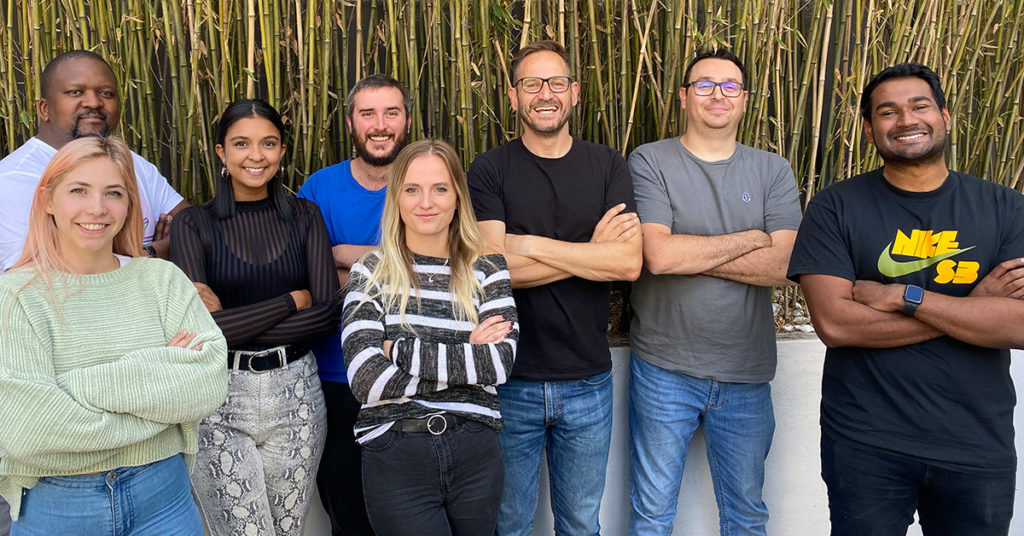 What gets you most excited about coming to work?
CS: "Hundred percent the people. But also knowing that we always have something new and exciting that we are working on." 
DD: "The team (the banter, the snacks, the great brainstorms)." 
HODM: "The team. Learning something new and the new challenges. It never gets boring." 
DPM: "It has to be the incredible people I work with. What I love about my job is the collaborative environment – there is a genuine spirit of cooperation and shared goals." 
CD: "Working for a company that is driven by purpose. One that actually wants to make a difference in the lives of all South Africans." 
HOB: "The impressive and contagious energy levels of the team." 
MS: "The accelerated growth opportunities and the ability to make a lasting impact on the African content by closing the digital divide." 
What's your favourite part about working in the Marketing team?
CS: "We are a weird bunch of humans. So there is definitely never a dull moment in the team." 
DD: "We have the most fun, and are able to flex our creative muscles." 
HODM: "Everyone in the team is just so full of life, all are involved. Not one person will sit back and wait to do something." 
DPM: "It is always changing — always evolving — and I get front row seats to the process of a simple idea growing and coming to life." 
CD: "The fact that we get to create so many different kinds of work for the Ozow brand, all of which aim to attract new users to our fantastic Ozow products." 
HOB: "The team is open to new ideas and the humility makes it a safe space to be yourself." 
MS: "We get the opportunity to work on some really exciting campaigns and we are driven to be innovative in our approach." 
What does your average day look like?
CS: "In office by 8. Coffee first, always. Straight into meetings and getting epic work out!" 
DD: "I start with a coffee, check my emails and tasks for the day. Then get stuck in, work around meetings, and patiently wait for lunch because I'm normally starving. Then work hard until home time, when I normally do yoga and start dinner." 
HODM: "Drop off kids. Start off with a vanilla latte at our table, and look at our wild love birds. Then make my way to my office table, plan my day, look at stats and get cracking on my daily tasks.  Then some exercise, cooking and just relaxing with the family." 
DPM: "My primary responsibility as the team's Digital Project Manager/Traffic Manager is to ensure that all marketing materials and work flows efficiently to the creative studio. Keeping everyone on track and projects on deadline is my responsibility, as well as handling logistics and keeping all parties informed of the progress." 
CD: "My day consists of working on, guiding and approving marketing work done for the Ozow brand. As Creative Director, my role is to ensure that all of our work is on brand, in our tone of voice and, of course, positions us as a market leader in South Africa." 
HOB: "Meetings. Brainstorms. Strategy presentations and campaigns." 
MS: "My days are never the same. Some days, I am constantly on the phone dealing with suppliers and others I am building proposals and strategies. There is never a dull moment in Marketing." 
What would you say to anyone new joining the department?
CS: "Expect a fast-paced environment with epic reward. We are a group who like to banter a lot so make sure you can take a joke." 
DD: "You matter. If you have great idea, everyone wants to hear it." 
HODM: "If you want a challenge, keep on learning. Reach for the sky and push yourself to become the best." 
DMP: "We're a bunch of goal-driven individuals that put 110% into everything that we do. It is important that you invest as much of yourself into the business as they will do so in you. The only place where success comes before work is in the dictionary!" 
CD: "Be prepared to work hard and play hard." 
HOB: "Put your best foot forward because it's going to be a dance." 
MS: "Let's do cool sh*t." 
What are your thoughts on your growth/potential growth at Ozow?
CS: "I think Ozow always provides room for any growth. There is always room for conversations around the potential to grow in the Ozow environment and the transparency between everyone also helps." 
DD: "There is amazing growth potential at Ozow. And it's more than just a title. I've grown more in my career and confidence in my short time here than over my whole career." 
HODM: "Prove yourself, push to be more and you will be rewarded." 
DPM: "The growth opportunities within Ozow are astounding! Not only can you grow within your career, but personal development and growth are of vital significance to everyone here at Ozow. I've only been here a few months now and already I've had a few challenges come my way that have since broadened my skills. I look forward to seeing where it goes from here!" 
CD: "I firmly believe that it's possible to 10x your growth at Ozow." 
HOB: "Strong potential but the groundwork needs to be done." 
MS: "The growth potential at Ozow is like nothing I have ever experienced before. If you are committed and drive real value, you will be rewarded." 
What separates Ozow from other companies?
CS: "There are so many things but I think it's the fact that everyone wants Ozow to succeed and not just themselves." 
DD: "Companies are only as good as their people, and Ozow has good people." 
HODM: "Innovation – always pushing for more." 
DPM: "It's incredible being part of a company where you can feel that you are cared for outside of just the role you're there to fill. It's truly a family-like environment in which every single person cares about the next. I'm thrilled to be aboard this rocketship!" 
CD: "I think what separates Ozow from other companies that I've worked at is how aligned everyone is to the business goals and how we all have a role to play in helping the business achieve them." 
HOB: "Great Energy. Ability to move fast. A culture of simplicity." 
MS: "There are two key areas that separate Ozow from our competitors. One is the vision, driven by our founders and at the core of everything we do and two is the people who are executing on that vision." 
That's life at Ozow through the eyes of the Marketing team. If you want to join Ozow's incredible, talented, game-changing team, then have a look at our careers page here. We're growing quickly, and are constantly on the lookout for people who will take us to the next level – you might just be the next person to walk through our doors.